2023 - Usiminas, Brazil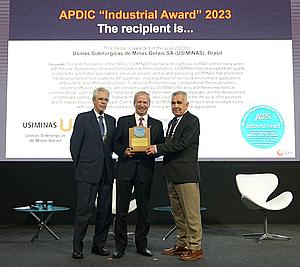 Since its foundation in the 1960's, USIMINAS has had a strong focus on R&D and for many years, with the use of phase equilibria and computational thermodynamics, USIMINAS has developed high quality products for automotive applications, pressure vessels, and oil and gas piping. USIMINAS has pioneered the development of thick plates for API pipelines, including those for corrosive environment applications, shipbuilding, and offshore structures. To develop this technology, computational thermodynamics, including diffusion modelling, are constantly used by USIMINAS for alloy and thermomechanical process design, optimisation of hot metal treatment and steelmaking for low residuals, and the development of optimised casting conditions. These techniques are also used to improve the life cycle of its products and to reduce environmental impact. Over the last years, USIMINAS has developed wear resistant steels with outstanding structural properties for mining and agricultural applications..
Prof Fernando Rizzo (President of CGEE, Emeritus Professor PUC-RIO), Technical Advisor to APDIC, and Andre Costa e Silva, APDIC IA Committee chair and Brasil´s representative in APDIC had the honor of presenting to Sergio Leite de Andrade, USIMINAS Vice President for Strategic Issues, the 2023 APDIC Industrial Award, during the opening ceremony of the 7th ABM Meeting.